FENDELEGANCE FENDER COVERS & MOORING PRODUCTS
We have created a product as a production cover that has a custom tailored look and fit for many common inflatable fender sizes. We have patterned over 60+ sizes of these popular fender brands: Aere, Prostock, Dock Buddy and HTM versions of PolyForm and TaylorMade! Many of these covers are in stock, in Black; our standard color, and ready to ship. We also make a variety of Plush Line Covers for Fender and Mooring Lines. Heavy Duty line covers fabricated with ballistic material to protect mooring lines and withstand harsh docking conditions. Our newest product is a Shore Power Cable Sling in several lengths. 
These covers have a durability that lasts more than one season. The harsh elements of the salty sea and air, along with the sunlight have damaging affects on the materials used by other covers. We have found a material that withstands these elements.  Captain Mike Petty, Owner of FendElegance
.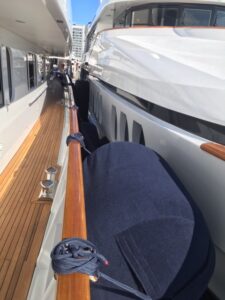 The fabric used to construct 'FENDElegance' Fender Covers has a plush, non-linear appearance with exceptional strength, durability and softness. It has a high resistance to stains, mold, mildew, gas, oil and salt. It is exceptionally lightweight, does not fade, is color-fast, UV-Resistant and does not sag or bag, and is easy to clean.
The fabric is a high-quality polyester fiber made from 100% recycled plastic bottles. Finally fitting into our idea of re-ducing, re-using and re-cycling a small amount of the waste produced by us all.

Reduce your footprint by using FendElegance products
One comment from a Captain on a yacht using 'FENDElegance' fender covers is that, "they are lightweight enough that all members of the crew are able to pick them up and maneuver them easily, even when wet." This fabric does not absorb water, shedding it as the fenders are lifted from the water; limiting the salty water transferred onto the decks.
'FENDElegance' Fender Covers are the perfect soft solution to go between the fender and the delicate surface of a yacht.
"We decided to start this venture when we saw a fender cover on a former yacht we worked that used the same material, and after 5 years it looked the same as it did when we first had it made. These yachts are worth a lot of money, and this product will help protect the investment. Plus they are beautiful and plush; just like the yachts. Elegance through and through". Says Captain and former Stew, Owners of FendElegance, Mike and Jodi Petty.
'FENDElegance' was created by a former Captain and Chief Stew Team who migrated to land to have a family, but had a desire to stay in the yacht industry by creating 'FENDElegance', a Fender Cover business. We are excited to bring this product to the yachts. We know so many Captains and crew that will like this new cover on the yachts they are on. It makes the crew look better when the boat looks detailed!
Many sizes are currently available, for Aere, Prostock, Megafend, Dock Buddy, plus many sizes for Taylor Made and Polyform HTM and Buoy models of inflatable fenders. Check the PRODUCTS page to see if the size you are looking for is listed. If not, we make custom.
Custom sizes are also available. Email us for more information. We can send you a Custom Size diagram, which you can fill in and return to us for an estimate, and to start production.
We are always expanding our line of sizes.
Call us today!
954-802-1189